2017 Dozynki Harvest Festival
September 17, 2017
Moose Family Center
1025 2nd St. North
Stevens Point, WI
Dozynki is a Polish harvest festival, still celebrated in rural parts of Poland.
Stevens Point, WI has its own festival with Polish food, polka dancing, crafts and heritage information. There is also a scholarship opportunity for students beginning their junior or senior year of high school who plan on post-secondary education.
2017 Dozynki Scholarship Application
2017 Dozynki Harvest Festival Flyer
2016 Dozynki Scholarship Winners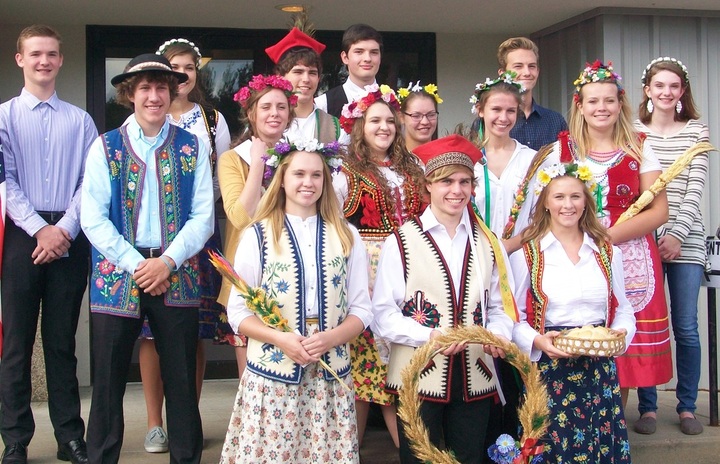 The Polish Heritage Awareness Society is pleased to announce the 2016 Dozynki scholarship winners. Students entering their high school junior or senior year and who are planning on post-secondary education are eligible to apply for one of three $1500 scholarships, five $1000 scholarships or ten $500 scholarships. The awards are given in conjunction with the Stevens Point Dozynki Harvest Festival and administered by the Polish Heritage Awareness Society.
The three $1500 scholarships were awarded to Shaylee Jerabek (Oshkosh West HS); Erik Konkol (SPASH) and Jesslyn Sitko (Mosinee). The five $1000 scholarships were awarded to Aaron Baker (SPASH); Kelsey Burton (SPASH); Ashtyn Okreglicki (Wisconsin Valley Lutheran); Hanna Sankey (SPASH) and Allison Wisinski (SPASH). The ten $500 scholarships were awared to Jenna Bohanski (SPASH); John Bohanski (SPASH); Tyler Glodowski (SPASH); Trevor Holtz (Mosinee); Forest Laska (Almond Bancroft); Katherine Mueller (Pacelli); Emily Omernik (Amherst); Christonna Shafranski (Pacelli); Barbara Skibba (Home School); Mariah Studinski (Pacelli). Not pictured above are Christonna Shafranski, Barbara Skibba, and Mariah Studinski.


---